Welcome to Johnbirchall-economist.com!
(EU Fact sheet – 6)
---
The single currency (Euro)
The history of the Single Currency
EMU STORY
The idea of an economic and monetary union in Europe started well before the Treaties establishing the European Communities after the Second World War (for example, already in the League of Nations, Gustav Stresemann asked in 1929 for a European currency against the background of an increased economic division due to a number of new nation states in Europe after the Treaty of Versailles. (Historical documentation of EMU)
How the Euro evolved
Part 1: 1960 - 1969 The run-up to the Barre Plan
Part 2: 1969 - 1971 The first plans by stages to create an economic and monetary union
Part 3: 1971 - 1975 From the floating US-Dollar to the European Monetary System
Part 4: 1975 - 1980 The need to coordinate economic policies
Part 5: 1980 - 1988 The ECU in the centre of discussion
Part 6: 1988 - 1991 The run-up to the Maastricht Treaty
Part 7: 1992 - 1993 Work within the first phase of EMU
Part 8: 1994 - 1998 Work within the second phase of EMU
Part 9: 1999 - 2000 The start of the euro area ("EUR11")
Part 10: 2001 - 2002 The realisation of the third phase and enlargement of the euro area ("EUR12")
Other Resources
http://ec.europa.eu/economy_finance/emu_history/documents/Presentations/A%20single%20currency%20for%20Europe.ppt#1
An excellent power point presentation on the reasons for the Euro and its role in EU expansion
http://ec.europa.eu/economy_finance/emu_history/documents/Presentations/The%20Euro%20and%20international%20aspects.ppt#13
An excellent power point presentation on the Euro and its international implications
http://www.ecb.eu/home/html/index.en.html - The European Central Bank
Introducing the Euro
Economic and monetary union (EMU) comprises various stages.
The main objective of Stage One, which began in 1990, was the complete liberalisation of capital movements under Article 56 of the EC Treaty.
In Stage Two, which began on 1 January 1994, the Member States implemented measures enabling them to achieve the convergence targets necessary in order to enter Stage Three of EMU and guaranteed the independence of their central banks. The process of coordinating economic policies and ensuring multilateral surveillance of progress with convergence began in the course of Stage Two. The Member States were called on to do all they could to avoid excessive public deficits.
In Stage Two the Member States had to take measures to free their central banks of political interference. Central banks are now responsible for monetary policy and, as such, determine interest rates in the euro zone. They were also prohibited from financing a budget deficit affecting the European institutions, the governments of the Member States or other authorities, be they regional or local, and from granting loans to state-owned companies.
Stage Three of EMU began on 1 January 1999 with the launch of the euro on financial markets. Under the accession treaty, the new Member States went straight into Stage Three of EMU on 1 May 2004.
What you must show before entering the Euro Zone
Price stability, measured according to the rate of inflation in the three best performing Member States;
Long-term interest rates close to the rates in the countries with the best inflation results;
An annual budget deficit which does not exceed 3% of gross domestic product (GDP) and total government debt which does not exceed 60% of GDP or which is falling steadily towards that figure;
Stability in the exchange rate of the national currency on exchange markets The exchange-rate mechanism of the European Monetary System requires this stability to be demonstrated and sustained for two years.
Some of the important data to consider when analysing the Euro and those who wish to join
New Member States Budget Deficits
| | | | | | | |
| --- | --- | --- | --- | --- | --- | --- |
| New members | 2000 | 2001 | 2002 | 2003 | 2004 | 2005 |
| Cyprus | -2.4 | -2.4 | -4.6 | -6.3 | -4.6 | -4.1 |
| Estonia | -0.3 | 0.3 | 1.8 | 2.6 | 0.7 | 0.0 |
| Hungary | -3.0 | -4.4 | -9.3 | -5.9 | -4.9 | -4.3 |
| Latvia | -2.7 | -1.6 | -2.7 | -1.8 | -2.2 | -2.0 |
| Lithuania | -2.6 | -2.1 | -1.4 | -1.7 | -2.8 | -2.6 |
| Malta | -6.5 | -6.4 | -5.7 | -9.7 | -5.9 | -4.5 |
| Poland | -1.8 | -3.5 | -3.6 | -4.1 | -6.0 | -4.5 |
| Czech Republic | -4.5 | -6.4 | -6.4 | -12.9 | -5.9 | -5.1 |
| Slovakia | -12.3 | -6.0 | -5.7 | -3.6 | -4.1 | -3.9 |
| Slovenia | -3.0 | -2.7 | -1.9 | -1.8 | -1.7 | -1.8 |
| New members | -3.2 | -4.1 | -4.9 | -5.7 | -5.0 | -4.2 |
| EU15 | 1.0* | -1.0 | -2.0 | -2.6 | -2.6 | -2.4 |
| EU25 | 0.9* | -1.1 | -2.1 | -2.7 | -2.7 | -2.5 |
| Euro zone | 0.1* | -1.6 | -2.3 | -2.7 | -2.7 | -2.6 |
Applicant States Budget Deficits
| | | | | | | |
| --- | --- | --- | --- | --- | --- | --- |
| Applicant countries | 2000 | 2001 | 2002 | 2003 | 2004 | 2005 |
| Bulgaria | -0.5 | 0.2 | -0.8 | -0.1 | -0.7 | -1.0 |
| Romania | -4.4 | -3.5 | -2.0 | -2.0 | -3.0 | -3.0 |
| Turkey | -6.1 | -29.8 | -12.6 | -8.8 | -7.1 | -6.0 |
Member States Government Deficits
| | | | | | | |
| --- | --- | --- | --- | --- | --- | --- |
| New members | 2000 | 2001 | 2002 | 2003 | 2004 | 2005 |
| Cyprus | 61.7 | 64.4 | 67.1 | 72.2 | 74.6 | 76.9 |
| Estonia | 5.0 | 4.7 | 5.7 | 5.8 | 5.4 | 5.3 |
| Hungary | 55.4 | 53.5 | 57.1 | 59.0 | 58.7 | 58.0 |
| Latvia | 13.9 | 16.2 | 15.5 | 15.6 | 16.0 | 16.1 |
| Lithuania | 24.3 | 23.4 | 22.8 | 21.9 | 22.8 | 23.2 |
| Malta | 57.1 | 61.8 | 61.7 | 72.0 | 73.9 | 75.9 |
| Poland | 36.6 | 36.7 | 41.2 | 45.4 | 49.1 | 50.3 |
| Czech Republic | 18.2 | 25.2 | 28.9 | 37.6 | 40.6 | 42.4 |
| Slovakia | 49.9 | 48.7 | 43.3 | 42.8 | 45.1 | 46.1 |
| Slovenia | 26.7 | 26.9 | 27.8 | 27.1 | 28.3 | 28.2 |
| New members | 36.4 | 38.5 | 39.4 | 42.2 | 44.4 | 45.2 |
| EU15 | 64.0 | 63.2 | 62.5 | 64.0 | 64.2 | 64.2 |
| EU25 | 62.9 | 62.1 | 61.5 | 63.1 | 63.4 | 63.4 |
| Euro zone | 70.4 | 69.4 | 69.2 | 70.4 | 70.9 | 70.9 |
Applicants States – Government Deficits
| | | | | | | |
| --- | --- | --- | --- | --- | --- | --- |
| Applicant countries | 2000 | 2001 | 2002 | 2003 | 2004 | 2005 |
| Bulgaria | 73.6 | 66.2 | 53.2 | 46.2 | 44.4 | 43.2 |
| Romania | 23.9 | 23.2 | 23.3 | 21.8 | 23.5 | 23.5 |
| Turkey | 57.4 | 105.2 | 94.3 | 87.4 | 83.4 | 77.5 |
Where the Euro can be used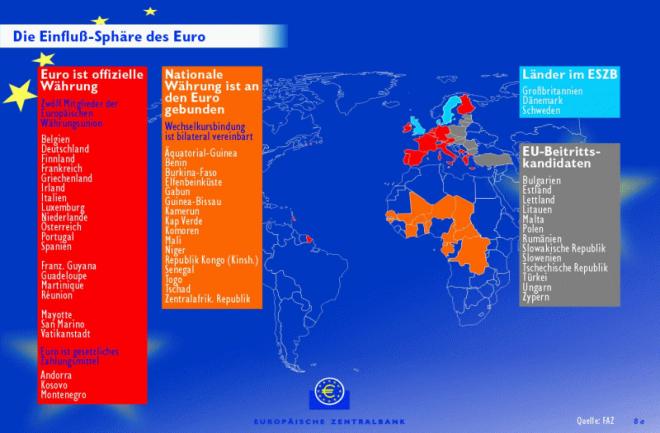 ---